Amy over at Park City Girl is hosting a fall quilt show to coincide with Quilt Market. You should check it out. Last night I think I looked at over 200 quilts. Very inspiring and humbling at the same time. Enter your quilt and browse around.
 After much thought this is the quilt I decided to enter.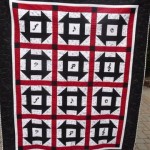 I made this for my son's school's music program to raffle off. I wanted to encompass the school's colours and some kind of music theme.I chose the churn dash block with musical symbols in the center.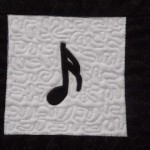 This is the center of one of the blocks. I was thinking of using all musical notes but I thought there must be other symbols besides notes. There are many others but if you are not musically inclined you wouldn't know what they were.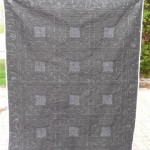 This is the back of the quilt. I think I love it as much as the front. I quilted it all myself on my home machine and I really like how everything turned out. I even bought numerous tickets to win it back. I could always make another. My son's friend's dad won it and he has  it displayed in his living room. I guess he loves it as much as I do!
Enjoy the show and have a great weekend.
Mary-Kay
14 Responses to "Bloggers Fall Quilt Show"
Leave a Reply