I finished the other 2 journal covers that I had all ready to put together.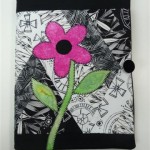 Everything I used to makes these covers came from my stash. Except the elastic closures. They are pony tail elastics and I actually had to go buy some. The black and white fabric is leftover cuttings from my hubby's quilt and the green is some bias that I had cut for a project  that didn't work.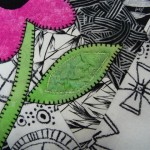 And then I added a little something to the leaves. I had some leftover texture magic stuff from the class I took. So I cut out these tiny little pieces and centered them on the leaves. I did a small zigzag stitch around to anchor it down and it adds a little bit of texture. Nothing goes to waste in this house.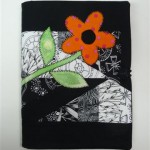 On this one, I decided to have the stem come around from the back. I don't know if I like it. I added texture magic to the leaves as in the other one. The next one that I make I'm going to make the flowers look like chrysanthemums or carnations by using the texture magic stuff. Maybe I'll use a different background. Are you getting tired of black and white? I know I am!
Desperate Housewives is on soon so I have to go. Have a great evening!
Mary-Kay
4 Responses to "More Journal Covers"
Leave a Reply