I don't know what day # of the renovation is but I'm ready to just loose it. I can't stand the mess anymore. But progress is being done and there seems to be a light at the end of the tunnel. I had hoped we would be done in a two week time frame but it looks more like three weeks. Most of the drywall has been hung on the walls with care and the plumbing doesn't drip all the way down the stairs. Now to just this job done so I can put up the Christmas decorations. That's hard to do when there is a bathtub in the living room. Okay I'll quit sounding like a nag. It will be well worth the wait.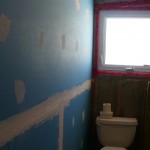 All that is left to drywall is the outside wall and the tud area. We are going to use cement board for the tub area.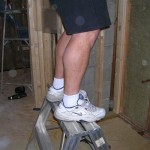 A mystery visitor on Thursday evening. He is not supposed to be here but occasionaly he drops in.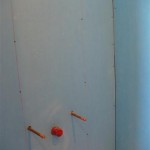 The vanity area. We did a water test last night and there was a leak but it was on the end cap not in the wall.
That's all for this post.
Talk to you later.
Mary-Kay
Leave a Reply