Well I haven't posted for a few days because this project is moving too slow for me. I thought that we would have walls by now but that's the way construction works. Actually I'm glad that it's taking this long because yesterday it rained and the roof is leaking by the chimney and that needs to be fixed right away.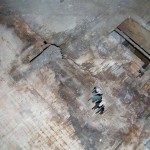 Here is the hole in the floor. This is right beside the tub and every time you would step on it, you could feel the floor sag. There was some water damage, obviously!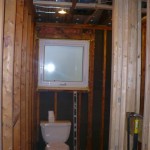 This is the new window. I guess it's a little too big for the opening on the outside because there is nothing to attach the aluminum trim to. Glad that's not my job.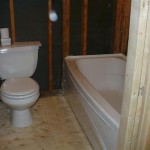 A dry fit of the new tub. The toilet and the tub do not match colour even though they are both American Standard.  We ended up buying a Kohler toilet because they make a brilliant white toilet that matches the tub better.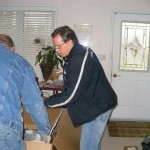 This is my brother-in-law and my brother hard at work. They both have been a tremendous help with this project.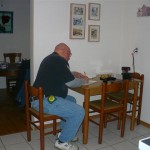 And here's the home owner hard at work. Actually he is calculating what he needs for the plumbing. There sure are lots of tiny little pieces that all go together to connect all the lines. Almost like a Lego set.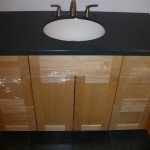 Finally here is a sneak peak of the vanity, taps and floor tile. I picked up the vanity today and as soon as I got it home both Brett and I wanted to see how it looked. So we got some tiles out and put the counter top on with the taps. I really like it so far. I can't wait to see it all done.
Tomorrow the chimney is supposed to be fixed and then it's on to insulation and drywall.  We better hurry this up because it's supposed to start getting real cold out. Right now the bathroom is like an ice box.
That's all for now.
Talk to you later.
Mary-Kay
Leave a Reply