My quilty friends and I  are" The Quilters Three". We've made many comfort quilts over the years. Some patterns are so easy to whip up and quilt, that we tend to over use them. Other patterns with 20 or more triangles in each block, get put by the wayside. Too much work and it takes way too long. We're behind on our quilts and it seems that every time I talk to somebody, there's another quilt that needs to be handed out. So I'll stick with the easy, tried and true patterns for our quilts.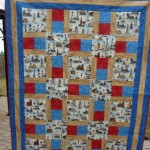 Okay, let's try this again. I had this post all ready to go and none of the photos showed up. What gives? Anyway, this is one of the 3 nautical comfort quilts that I made in the last couple of weeks. The pattern is from a Sulky book and we call it the Cottage Quilt. The book sample had cottages in it, so the name stuck.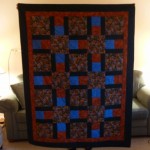 Here's the "Where's Waldo" version of the same quilt. Betty's husband thought that's what it looked like but I don't see Waldo anywhere. The fabric is actually houses that look like they are from a hilly region of Italy or Europe somewhere. No Waldo!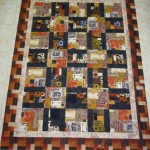 And another version. I just love this fabric. It reminds me of a paper collage from Tim Holtz. There's typewriter keys, manila tags and file folder tabs all strewn about. And the small border fabric is called Fingerpaint. I wish I had it in every colour.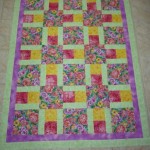 And finally, a floral version of the Cottage Quilt. The colurs used here make the pattern really visible.  I really like the versatility of this pattern. Every time I make one, it's a treat to see how it's going to turn out.
 That's the show for today. I hope you enjoyed it.
One Response to "Comfort Quilts"
Allie Says:
March 8th, 2012 at 8:18 am

Easy patterns are smart for comfort quilts, it also makes them easier to give away, I think. If something takes you a year to make, you don't want to hand it over, lol! These are lovely, and I'm sure they'll bring the recipients great comfort!
Leave a Reply