December 7th, 2008 - Binding
 I have managed to put on the binding for 8 of the quilts that I had quilted. Seven are hand sewn down and I am working on the 8th. I have to make the binding for the last 2 and the attach them and then I will be done with the 10 quilts. I really don't want to start anything before the new year. There are lots of things that I would like to make but I'm saving up for the Stash Busters of 2009. I am on vacation the last week of December  and the first week of January. Think of how much I could accomplish and how much stash I could use up. I  actually went to Quilting Confections and only bought the BOM. I am so proud of myself! Granted there was a lot of stuff that I wanted but I showed self restraint.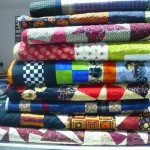 Here is a pile of some of the quilts that I have completed this year. I can't believe that I have more to be quilted. I think I have to quilt them myself. I know how to do it but I get all excited about a new project and start it before I complete the last one. Something I'm going to work on in the new year.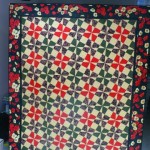 Here is the X-block quilt. I am going to use this as my November quilt because of the poppies on it. It's quilted in a light coloured thread in an allover pattern that kind of looks like  spades and clubs. I am trying to make a quilt for every month and I think I only have 3 months covered, October, November and December.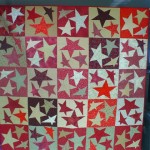 This is the Buggy Barn pattern, Triple Star Crazy. I bought this as a kit which included the backing. I like the reds and lights that were picked. Not the colours I would have chose but I like it anyway. This is quilted with an allover stipple in a tan coloured thread. It looks great.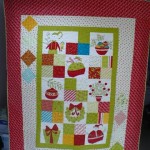 And lastly, this is Merry and Bright. Another kit that I picked up at Hearts to Holly which included the backing fabric. It used charm squares and a panel. It's quilted with an all over pattern that has snowflakes and holly leaves. My Mom really liked it so I am looking for another kit so I can give it to her for Christmas.
More later on. The quilt holder gets tired and cranky.
Talk to you later.
Mary-Kay
Leave a Reply