December 8th, 2008 - Finish #8
 Last night I finished the binding on quilt #8. I have quite a pile of them and I have to decide soon who I'm giving them to. I thought that I could give the 2 girlie quilts to my great nieces but seeing as I now have 4 great nieces I can't really do that. Maybe I could because I made baby quilts for the 2 younger ones  and the 2 older ones do not have a quilt made by me.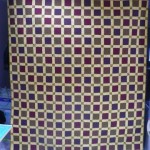 This is a disappearing 9-patch. The only reason that I made this quilt was I liked the yellow mosiac looking fabric and I needed a reason to by it. So the girl at the quilt shop suggested that I make this pattern. She even ran out to her car to get a quilt ,all wrapped up to give away, to show me. So I had to make it. I chose brown fabrics to go with it and I don't even like brown but I kind of like this quilt.
That's all for now.
Talk to you later.
Mary-Kay
Leave a Reply