Ah, you are probably thinking I was going to say something finish like "pulla". I can't wait until Christmas when my sister-in-law makes some more. She makes it almost as good as my grandmother. My brother was living in Sault Ste Marie ON and found a finish bakery where you could get a loaf of pulla for $7- and boy was it good.
Anyway enough of those calorie laden thoughts. On to quilting. Here is a picture of the 9th quilt all bound.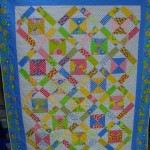 This is Sugar and Spice from Anka's Treasures. I chose the Strawberry and Lemonade fabric from Moda. I had a charm pack and couldn't decide what to do with it and when I was at Hearts to Holly in Charlevoix I saw this pattern and decided this was it. I had Deb from Wedgewood Custom Quilting quilt it and I love it.
That's all for now.
Talk to you later.
Mary-Kay (the quilting junkie)
Leave a Reply