So I should just become a shopper instead of a quilter. Two friends and I went to the area shop hop and I wasn't planning on buying anything. I should have stayed home. Eleven yards later. It doesn't look like that at all. But most of it is going to be used this week. Hopefully!
Fabric added this week: 11.36 yds
Fabric added ytd: 99.21 yds
Fabric used this week: .25 yds
Fabric used ytd: 107.7 yds
Net fabric busted: 8.49 yds
 I think I should change my goal , instead of 100 yards busted, it should be 100 yds purchased. Oh well, there is always next week. After Tuesday school is done and that gives me more time to sew. But it also means that the child will be wanting to go places. It never ends until they move out but I think I would miss him too much.
 Here's the finished BOM from Quilting Confections. Those triangles drove me crazy. I didn't like the way they were in the pattern so I changed them and did it wrong. I had to reverse sew one side of the quilt and then reverse sew the 4-patch triangle blocks. Instead of sewing the left and right sides of the borders, I sewed them on clockwise to make sure the triangles were in the right place. I guess if I had EQ6 all my problems would be solved before sewing them on. That's all I could think of while I was unsewing. But now it's done and ready to be quilted. The last border is 10″ and is a great place for a really nice feather pattern.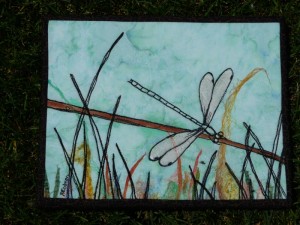 My only other finish this week is this thread-sketched wall hanging. My friend Deb came over with all her dyed bits of stuff and showed me how to do this on Friday night. I completed it entirely by 10:30 and it was hanging on the wall by 11. I put this on the grass outside to snap a picture and there is a tiny cricket on it. It wasn't on the first picture. It looks like the dragonfly has his eye on it.  Mmmm tasty!
Well that's all for this week.I should have some more stuff done next week.
Happy quilting
Mary-Kay
2 Responses to "Stash Busting Report Week #25"
Mrya Says:
June 24th, 2009 at 9:53 pm

Wonderful quilts! Love the effects of your outer boarder! Very different! 😎

That cricket on your wall-quilt fits right in! 😎

Thanks for your visit to my blog about the Sudoku quilt… not a hard quilt to make once you have a correct game finish… 😎

Happy stitchings! 😎

the quilt rat Says:
October 13th, 2009 at 5:19 pm

This is terrific………what was that cricket thinking?
You told me you are not an art quilter……ah but I think maybe you are.
Leave a Reply