First I don't post for a week and now here's a second one today. But I just have to share this "New Thing" 
  At the beginning of April, the 5th to be exact, we purchased a washer and dryer. If you bought the set, you got a free laundry tower.  We ordered the pair and the tower . We got the washer and the tower on April 15th. And we waited for the dryer which was on back order. I applied for the free tower rebate.   And we waited. We called Home Depot, we went in to Home Depot looking to see if there was any news about the dryer. None. Someone at Home Depot told us that gas dryers weren't purchased as much as electric. Why would I want an electric dryer when gas is cheaper to use? And we waited and we called Maytag. Nothing. I was getting pretty tired of waiting and  finally I heard the news. A dryer was set for delivery June 13th.  The person at the delivery center called me to confirm due to the scheduled delivery date. April 17th. Wow! Who knew that it would take 2 months to get a dryer?  I said I would believe it when it was delivered. On Friday I got the rebate for the tower. Amazing huh! Who ever gets the rebate before you get the product? Anyway, on Saturday the delivery window was 12 to 4 and at 3:40 a truck pulls up with the dryer. I checked it out to make sure it was the right model. I am not impressed with this at all but what can I do. The salesman at Home Depot was going to try and upgrade me to the top of the line dryer for the same price. But I had ordered the best dryer already. Should I have switched to electric? No way!  But the dryer is great. It has steam and all the gadgets that you could want in a dryer. So does the washer too! But 2 months is way too long for a dryer to be on back order. I don't think I'll be dealing with either of these companies any more.  No kind of apology was offered or anything. Should we as the consumer just have to put up with this? I don't think so. I think that all businesses should be kissing up to the consumers big time. I dropped a few thousand on these appliances and had to wait 2 months to get a dryer. It's not a luxury car that is hand built or a quilt that is hand quilted. It's a dryer! Anyway I like the new dryer and I hope no one else has to put up with this kind of treatment.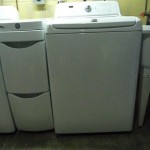 This is the washer and the laundry tower.. It's a top loader and has a giant tub with no center agitator. Great for quilts. The controls are pretty basic. You put the clothes in and choose the correct cycle, darks, sheets, whites, hand wash etc. No water level or temperature to select. Then press start. Nice and simple. The laundry tower fits all the soap and laundry supplies.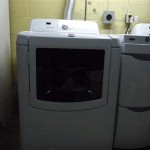 Oh look, it's the dryer. I wonder when that would show up. Long time no see. It dries clothes in no time due to it's large size. I think that I have to buy more clothes and towels. There never seems to be enough for a load and then we run out of towels. The load level is almost twice the size of our old set. I hope this set lasts forever becuase I don't want to wait 2 months again for a dryer.
 I'm off to play with the new toy. Actually all the laundry is done. So if you have any dirty clothes, bring them over. Just joking.  Or I could just wash some fabric.
Have a great week.
Mary-Kay
One Response to "Something New"
Julie Says:
June 15th, 2009 at 11:11 pm

I think one of my biggest blessings is a washer and dryer. I am so glad you got new ones! I use mine every day.
Leave a Reply