Hey, I've been sort of busy this weekend. We purchased a giant size gazebo and I spent all day Saturday putting it together. We worked until 10 p.m. and then on Sunday all I had to do was put up the privacy curtains and mosquito netting. It's great. Now I have to figure out how to get my sewing machine out there. We were out there on Saturday night until midnight, just sitting there having a few beverages and chatting . Last night we sat out there until 10 p.m.  and enjoyed the breeze.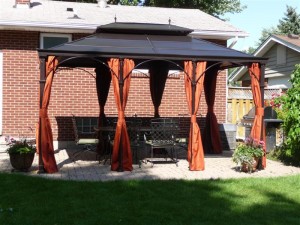 We have no shade until late afternoon and during the day it's unbearably hot. Brett  wants to get a hanging light and a ceiling  fan. Next he'll probably want a hammock or something like that. I'm glad that the gazebo is large enough to accomadate the patio furniture. He  thinks I had these purchases planned all along. I don't think so! My youngest son now wants to have another party so all his friends can hang out with the netting and curtains closed. Maybe it will contain some of their noise.
Here is my delayed stash report.
Fabric added this week: 0 yds – yup that's right. Finally!!!
Fabric added ytd: 99.21 yds
Fabric used this week:3.46 yds
Fabric used ytd: 111.16 yds
Net fabric busted: 11.95 yds
 This week I plan on doing some more sewing because it's supposed to rain for 3 days.
Have a great week.
Mary-Kay
Leave a Reply