I haven't been sewing all week. I've been busy re-organizing this messy sewing room. I really have way too much junk in here and it was time to purge. I  gave some to Goodwill, some to the Scouts to use as fire starters, some to my sewing sister and some to the garbage. Now I feel like sewing something. I went to IKEA last Sunday and bought a new cutting table.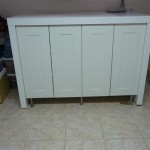 Actually, it's a kitchen island. I have to get a different set of legs for the front. Apparently the floor slopes a lot in that area, but it looks great for now.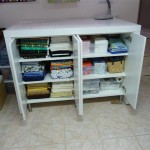 Lots of storage below. My other table was the folding gateleg style. I got it for Christmas maybe 15 years ago. It was a nice table but there was no room below it. I had things in bags beneath the table and they were always full of threads and lint. This table is meant to be stationary so that means I'll have to make use of my revolving cutting mat more often.
My sisters suggested that I purchase another shelving unit so I can get everything out of the bins and on to shelves. At first I thought this was a good idea but then I thought that it would just encourage me to get more fabric. You know, fill in the empty shelves – I would prefer to empty the bins of the various projects in them. I'd better get sewing then!
Fabric added this week:  0 yds
Fabric added YTD: 211.61 yds
Fabric used this week: .25 yds
Fabric used YTD: 154.89 yds
Net fabric busted: -56.72 yds
 Not much fabric used but there's always next week. Happy sewing.
Mary-Kay
One Response to "Stash Busting Week #35"
Dianne B. in England Says:
August 31st, 2009 at 6:00 am

That looks great — I love your new cutting unit and storage space! It's very nice and organised. 🙂
Leave a Reply