August 6th, 2009 - A First
I tied my first quilt today. Or should I say yesterday. I know it's late. Anyway I'm not sure if I like it or not but I think I'll try it again but this time I'll make the binding a little smaller.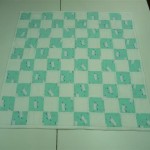 It's a baby quilt. It took a lot of time to tie it and I'm sure I could have machine quilted it faster. I had a hard time trying to get the needle through the fabric. I think it's because I went through the seam allowance at the corners. The next one will be tied in the middle of the squares. But the time saving part is the binding. I pulled the backing around to the front and machine stitched it down. It makes for bulky corners especially when using flannel. I tried to do mitered corners but that wasn't working for me. I will have to try that on the next one.
Until next time.
Mary-Kay
One Response to "A First"
Norece Says:
August 9th, 2009 at 7:49 pm

When making flannel quilts I always use cotton binding – the flannel is just too bulky for binndings.
Leave a Reply