And it's not fabric. Although I did sign up for a monthly box of goodies from Atelier Fiber Arts in Canada. For $35- CAD, which includes shipping, I get 2.5 m of fabric, thread and some other goodies. I thought it was a great deal and it's small enough pieces of new prints that would be ideal for wallets. I think I will do this for the rest of the year and see how it goes. Some of the fabric and goodies will be gifts.
But the new addition is a Bernina 770 QE.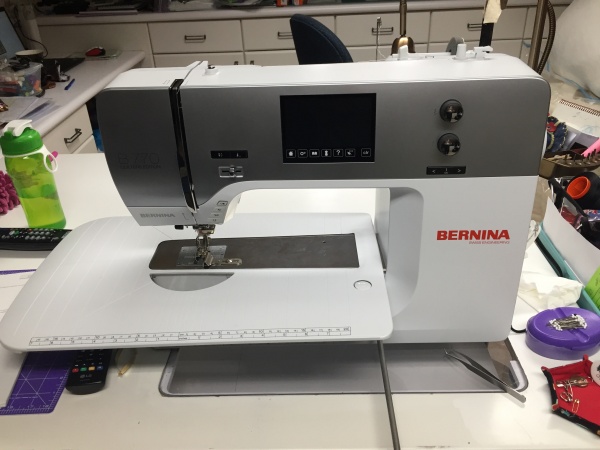 I'm very excited to have this awesome machine. There's a big learning curve here but lots of YouTube videos to make it all so easy. I need to get my table reworked and have the machine set in. Once I get a large piece of Lexan (thick plexi-glass), my neighbour will do the changes for me. He is the best neighbour a person could have. He made my table originally and is ready for this challenge. My son works at a tool shop and will have the Lexan cut to the exact shape to fit the bed of the machine. Then the sewing and quilting will really begin.
I have not done much sewing as both machines were in for service. The 770 got a clean bill of health seeing as I bought it used. How can a person have this machine and want to get rid of it? I jumped at the opportunity. Anyway my Bernina 450 needed service and cleaning. It will be my back up machine and will be used for embroidery as I didn't get the module for the 770.
In the stash department, I did a bit of sewing on my Featherweight. I had to sew something. So I started sewing 2.5″ squares together and made this quilt top.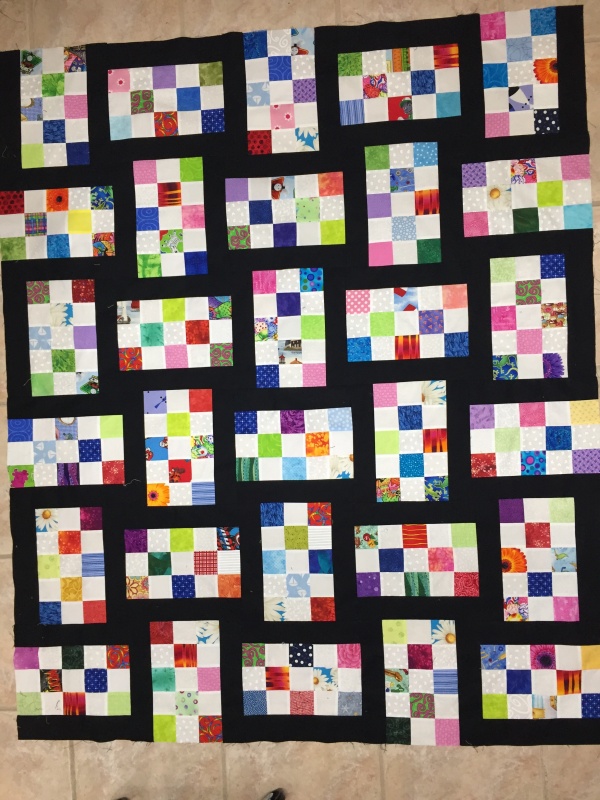 Just thinking I need to put a few borders on this to finish it up. The only stash I used was the black, the rest from the scraps. Now for some numbers.
Fabric used this week: 1.17 yds
Fabric used YTD: 49.63 yds
Fabric added this week" 0 yds
Fabric added YTD: 19.2 yds
Net fabric busted: 30.43 yds
I bought a couple of king-sized flat sheets to use for my Dear Jane quilt top and backing but I'm not including them in any totals. I also bought another sheet to use as a backing for another quilt. We will see how that goes once I get it quilted this week.
On the 15 Minutes to Stitch Challenge, I have managed to stitch 24 hours in Week #1 and 28 hours in Week #2. Only missed one day of stitching. Lots of organizing and batting cutting going on in my sewing room. I need to make room for that big machine.
I'm linking up with Kate at Life in Pieces for the 15 Minutes to Sew Challenge and with Donna at quiltpaintcreate for the Stash Report.
Have a great week and happy stitching!
4 Responses to "New Additions"
Leave a Reply