I finally finished up Spool Snowmen. I had to sew on 23 buttons for their eyes and noses. I didn't have the right needle and my fingers are sore from trying to push a blunt ended needle through the fabric and batting.
Then I blanket-stitched their noses on. First I had to make them. The pattern has a button pack available but it's quite pricey so I thought I would use wool. But I didn't have any orange wool, just some yellow. I ended up colouring the yellow wool with a orange sharpie. My fingers look like I was in the Cheezies. I love using what I have on hand. Makes me feel good!
The eyes and noses are from my button find on FaceBook. Someone was selling a giant box of buttons for $40- and I bought it. I spent a day sorting out the buttons by colour and clipping off any threads I found. Once again my hands were filthy. I make sure to wash the buttons as I use them.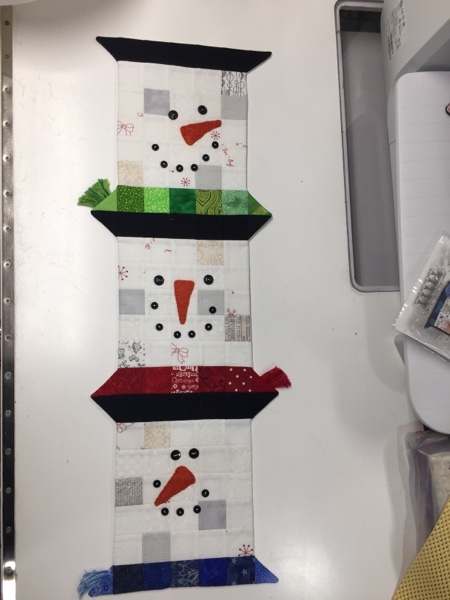 I also finished up the stitching on this Crabapple Hill project.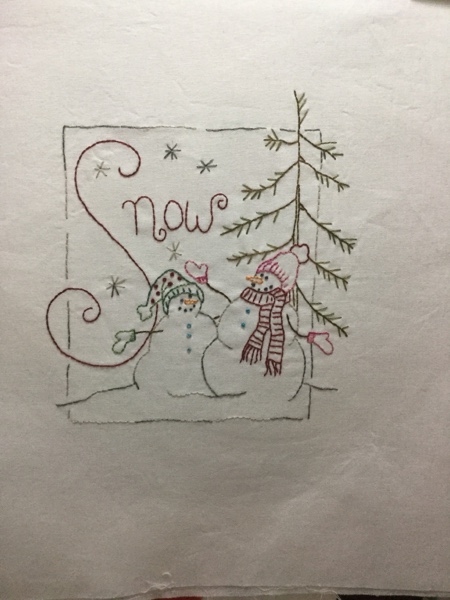 Now all I need to do is decide pillow or wall hanging. Then get it done!
I finished up a couple of Christmas table runners/ wall hangings. They needed to be quilted and bound. That's 3 things off my UFO list.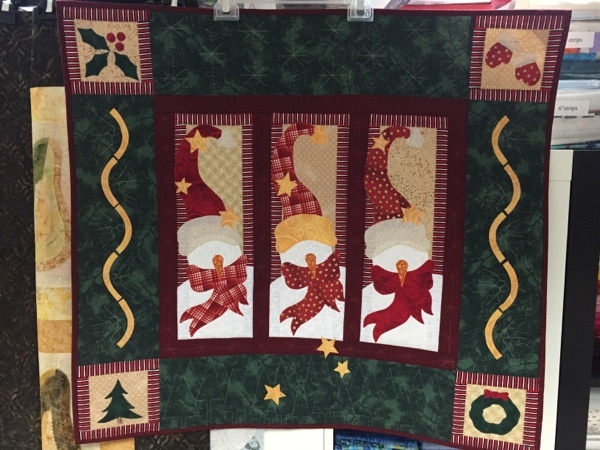 I put a lot of quilting in to the Snowman Trio. It was all layered and basted, ready to be quilted. I blanket-stitched the larger raw-edged applique and straight-stitched the small pieces. A little stippling in the background. The side borders are holly leaves, the top border is snowflakes and spirals from a Lori Kennedy book and the bottom border is layered trees that I chalked on. I really like how it turned out.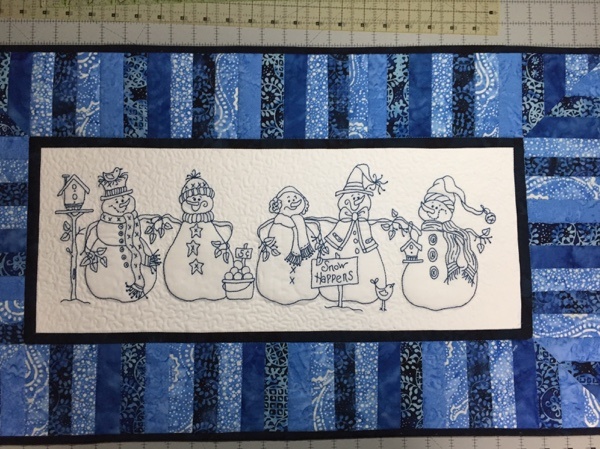 This one, Snow Happens, was getting done until my old machine started skipping stitches. I must have ripped out the stippling 3 times before I gave up. On the borders I stitched-in-the-ditch and then it's all stippled around the snowmen. Binding on both pieces is all by machine. I love my Bernina #71 foot for binding. It is a lap-seam foot but someone figured out how to use it for binding. What a genius! I love how the binding turns out. And instead of spending hours hand-stitching the binding down, they are done! Now to move on to other exciting projects.
As for stash busting, I failed. Oops! I made a quilt for a shop and got paid in fabric. That's okay as I do have a plan for it. More wallets. Just in time for Canada Day.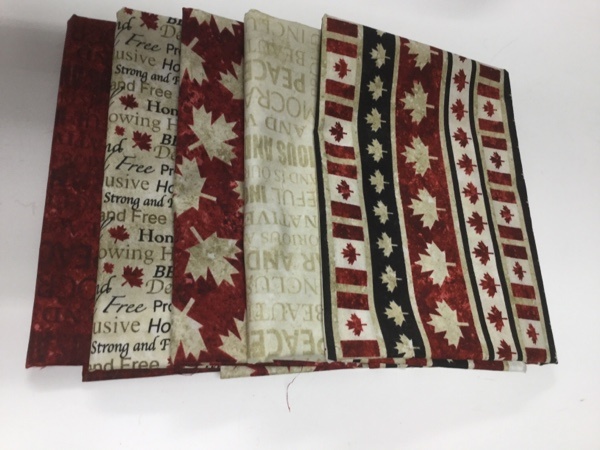 Now for some numbers.
Fabric used this week: 6.32 yds
Fabric used YTD: 57.89 yds
Fabric added this week: 6.6 yds
Fabric added YTD: 25.8 yds
Net fabric busted: 32.09 yds
And on the stitching front, I have managed to stitch 27 hours this week. I really range in my daily stitching times. Some days it's only a hour or 2 but then there are those marathon days where I get in 5 to 8 hours. I love those days the best!
I'm linking up with Donna at quiltpaintcreate for the Stash Report, with Kate at Life in Pieces for the 15 Minutes to Stitch challenge and with Kathy at Kathy's Quilts for Slow Stitching Sunday.
Have a great week!
5 Responses to "Slow Stitching, Stash Busting and 15 Minutes To Stitch"
Leave a Reply