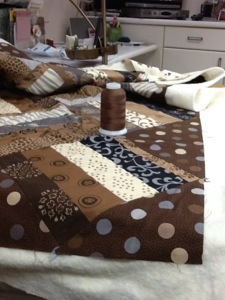 This is today's quilting project. This is a really simple quilt to make using 'Strip-It' fabric cut into 10.5″ squares and assembled. I think it took 3 hours to sew the top. It will probably take a little longer to quilt. Now to think of how to quilt it besides stitching in the ditch. More photos when it's done.
One Response to "Today's Project"
Allie Says:
August 16th, 2012 at 9:49 pm

Oh that is yummy!!! 3 hours, wow. I love your free motion stitching in your last post too, Mary-Kay!
Leave a Reply