Yep, it's growing again. But I did make a dent in it. I finished 3 quilt tops and have the backing cut for 2 of them.  I sewed last night or should I say this morning until 4 AM. I was on a mission.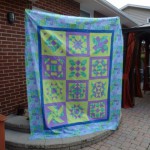 First I cleaned my sewing room and then finished up a BOM that's been sitting around here for awhile. The outside border was a pain in the *%# to make. The instructions stated that there was a 22″ piece for the side borders, I think it was about 86″ long. It's a directional print. And there's a meter of fabric(39″) for the top and bottom borders. Nowhere does it say how wide to cut the fabric but that there was enough fabric for mitered corners. You think with the 22″, you could get a 10″ border. Lucky for me, I did the math first before I started cutting. So instead of the 10″ border thought I was going to get, I ended up with a 9.5″ one. With 39″ of fabric you can't cut 4-10″ pieces to fit the width of this quilt. I think I was supposed to know all this by osmosis or something llike that. Very poor finishing instructions.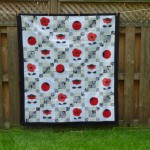 I made this  little quilt up this week. I was at my niece's 2nd birthday party last weekend and she had a ladybug theme. It was really cute and I forgot my camera, so no pictures. Anyway she has some motor skill issues due to birthing complications and I thought she needs a red, black and white ladybug quilt for on the floor. The white with black dots reads yellow outside. Oh well, I'm not taking it apart for that and if it's never outside, no one will notice.  All that's left to do is the quilting. I'm hoping to quilt it on my new machine which I need to pick up soon.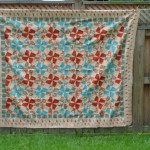 I also finished up this quilt. The wonderful X-block quilt. I'm sick of it already. Matching those angled pieces is a real pain. Nowhere in the instructions does it say to match them up but I did it and it looks great. The border is the leftover pieces from when you cut the  9-patch blocks. Seeing this quilt all spread out, the rust fabric sticks out the most. Once again, all it needs is quilting. 
 And now for my stash report.
Fabric added this week: 19.47 yds…….big sale on some batiks 30% off so I had to buy some and I already cut up 4.5 yds of it for a project.
Fabric added YTD: 125.65 yds
Fabric used this week: 16.97 yds
Fabric used YTD: 135.35 yds
Net fabric busted: 9.7 yds
 I hope to  still have the sewing bug this week. My vacation is over, I did a lot of things and now it's time to return to work. Hopefully the weather doesn't suck as much as it did this week. No humidity is what I would like and maybe 80 degrees at the most with a nice breeze. Whoever's in control of the weather, are you listening?
 Have a great week!
Mary-Kay
2 Responses to "The Stash"
Penny Says:
July 25th, 2010 at 9:00 pm

Your quilt tops are wonderful. I am so proud that even though you didn't like one you persevered. You really blew out lots of fabric this week. Yea! And I am not one to cast stones for buying fabric on sale. That is just smart.

Allie Says:
July 26th, 2010 at 9:32 pm

Mary-Kay, these quilts are just beautiful – I love the last one best – sorry to hear the instructions were wrong on the top one, I HATE that.
I was worried about you Friday night, with the storms heading your way…and lost my internet so I couldn't check on you!
Leave a Reply