I always complain about Brett buying stuff to complete a project and then never completing the project. In fact, never even starting the project. For example, he bought some paint for touching up something last summer. He left the paint in the garage over the winter and now it's not usable so he has to go buy more. At least with fabric, we can leave it a few years and as long as it's in a somewhat controlled environment, we can go back and use this fabric. I bought this row of the month kit, starting Aug 7 2002. I still had the bill in the bag. This fabric has been aged to perfection. Lucky for me, it's not  really a trendy fabric quilt.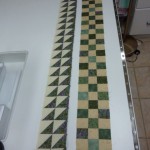 Here's 2 rows I sewed up so far this week. They were the easiest parts.  My friend, Betty, bought the same kit. We decided a few months ago that we should start working on this and start with the checkered row. She's had hers done for a while and I just decided to do mine Monday night. And then I just went on to the hst row. I think the next row could be log cabins or maybe the dreaded flying geese. I don't know if I have the right cuts of fabric to use a better method for the geese. I'll have to check out the instructions …. more like I need to find the instructions. I'll go do that right now.
See you all later.
One Response to "How Long Does Fabric Need To Age?"
Allie Says:
July 29th, 2010 at 10:05 pm

Such precise piecing! These are so pretty! Yes, I'm glad fabric doesn't go "bad", lol.
Leave a Reply