Once again, I have purchased more fabric. But it is so cool that I had to have it.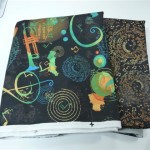 I think I'm getting obsessed with the music fabric. When you are looking for fabric for a theme quilt, you still look for it even after the quilt is done. But there is always another year that a quilt can be made to raffle off for the music cause. But I might just keep this for myself. I saw a bag made with the large print and I was very drawn to it. The colours give you lots of options.
And because I bought some fabric………..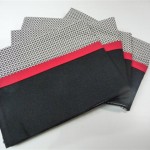 I had to make up something quick and easy so it would look like I did something this week.So pillowcases here I come. I made this set for my older son's room which needs to be redone. He's going with a black and red theme whether he likes it or not.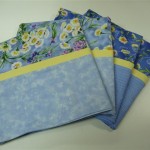 And I made this set of 4 for my bedroom which is currently blue and yellow. Right now my room is painted yellow and you can only put certain yellows in there. When I paint I'm going with a white so I'm not limited to what colour quilt (and I have many) that I can put in there. My plan is a different quilt for each season.  In looking at these cases, I realized I only made queen size for my room and I have 2 standard pillows that need new pillowcases too. Off to use more stash but that's for next week's report.
 And that's a quick way to use up some stash. And here are  my totals.
Fabric added this week: 6.5 yds
Fabric added year-to-date: 64.78 yds
Fabric used this week: 13.24 yds
Fabric used year-to-date: 94.20 yds
Net fabric busted: 29.42 yds
 I think that if I buy fabric I should use more than that in the week. I'll just keep on making pillowcases with the fabric that has aged for a while. If I keep up at this pace, I'll have reached my goal of 100 yds busted by year end. Hurray for me!!!!
Have a great week and keep on quilting.
Mary-Kay
3 Responses to "Stashbusting Week #18"
Vicki Says:
May 3rd, 2009 at 5:17 pm

I decorate like you-everything has a neutral backdrop walls, furniture etc so I can change out my quilts that are very colorful. I love those pillowcases.

elizabeth Says:
May 8th, 2009 at 10:22 am

Dear quiltfriend,
My sister is, after an exiting period, finaly pregnant of her first baby.
Now I would like to make a bright-colored quilt for her. To welcome the baby to this world
with a quilt from patches from all over the world. I try to collect scraps of 12×12 cm (5×5 inch).
Do you have a piece of fabric that may be suitable, perhaps you would sent it to me.
I would really like to use it!

Many thanks and warm greetings,
Elizabeth Kremer
Wedderweg 91
9665 JM Oude Pekela
Netherlands
http://beautysalonambiance.blogspot.com/

Rose Marie Says:
May 9th, 2009 at 8:14 am

Love the music quilt and you did good on your stippling!

You had a question about trilliums. I got mine from my brother who lives near Parry Sound, but I have seen trilliums at a farmer's market for sale.

Once the trilliums are planted, they disappear during the summer and you will only see them again this time of year. They don't like to be disturbed and each fall, we load our beds with maple tree leaves that have been mulched.

Thanks for stopping by.
Leave a Reply