November 15th, 2009 - Finally!
Finally, we figured out how to resize the pics. My son said I did it last time and I'm saying NO. I don't do computers very well without explicit instructions. Not press this key and that key or click here. Anyway here are a few pics.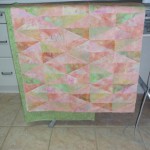 The blinds I've been working on all week. All I have left to do is cut and attach the backing material. And then I have to attach all the rings, strings and mounting hardware. Then sand and paint the window frames because they've never been done. Maybe I can con some of my family to help out.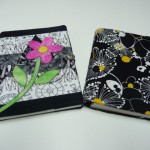 I also made 2 more journals this week. The  one on the right  has lined pages and boy, was it hard to find.. When I originally looked for blank journals, all I could find was lined ones. and then when I wanted a lined one, all I could find was blank ones. I guess that's life.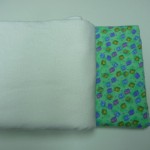 I need to make a baby quilt out of this fabric by Wed. night. It's a really easy pattern and you just wrap the backing around to the front for the binding. Nice and quick.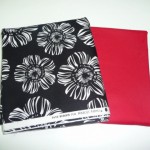 And this black and red is going to become a rug for my bathroom. It seems wrong to cut up such a pretty fabric but I think it's going to look really cool. It will appear grey rather than black which is what I want. If  it doesn't look like how I imagine it should, it will be a nice rug for the laundry room.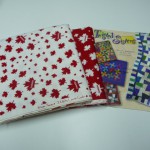 And lastly, some Canada fabric. I've seen some other fabric and I never really liked it. My son wants a Canada themed quilt using the template from Twisted Sisters. I've kept my eyes open for such fabric and I finally found some. Now to get busy and sew up the quilt. After all those other projects I have on the go.
  Well that's it for now. More pics later. Now that I've got it all figured out. Finally!
Mary-Kay
One Response to "Finally!"
Allie Says:
November 15th, 2009 at 10:50 pm

Yay, so glad you figured out the pics! I let flickr figure it out for me, lol…..
LOVE. LOVE. LOVE. The blinds. Oh my goodness are those beautiful, Mary-Kay.
Love the journals and your fabrics too!
Leave a Reply