Guess what? I passed 100 yards. Now you guessing 100 yards of stash used or stash enhanced. Well if you guessed stash used, you are correct. If you guessed stash enhanced, you are also correct. No prizes though. Anyway, I completed "Convoy" from Buggy Barn for my grandson and now am in the process of quilting it.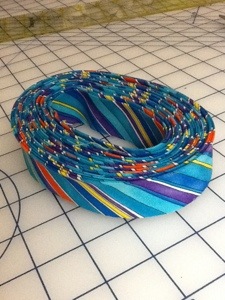 Here's the binding all ready to attach. I've decided to make bias binding for kid's quilts to make them more durable. My sister made a quilt for her granddaughter and has already replaced the binding. I guess it's well used. I really like bias binding especially for stripes. It looks so cool! I better hurry up and finish the quilting on this so you can all see it.
Now for my stash used/enhancement numbers.
Fabric used this week: 12.76 yds
Fabric used YTD: 112.26 yds
Fabric added this week: 17.86 yds
Fabric added YTD: 109.03 yds
Net fabric busted: 3.23 yds
All that added fabric wasn't actually this week. I kept on forgetting to add it. I really have to watch my fabric buying in the future. I don't have anywhere to put it and it's getting a little out of control. I'm starting to feel like a hoarder but more organized than the ones on tv. At least fabric is something I can use and not like those hoarders who keep all the old newspapers and magazines. Oops, there 4 piles of quilting magazines in the other room. I'm going to go through them, right?
Have a great day!
3 Responses to "The Stash"
Julie in GA Says:
June 9th, 2013 at 9:26 am

I love your striped bias binding–beautiful! Can't wait to see it on the quilt.

Kate Says:
June 9th, 2013 at 10:29 am

The binding is so bright and fun. Just perfect for a kids quilt. Congrats on being in the black.

I was startled by your comparison to a hoarder, but have a funny feeling that I might fit right in there with you on the fabric. However, I did go through all my magazines on Friday and moved a bunch to the recycle bin.

Kris Says:
June 9th, 2013 at 6:51 pm

That binding looks scrumptious! Just this week, as I was about ready to hit the "buy" button on a fabric order, I wondered if I was a fabric hoarder. Then, I closed the window – no order!
Leave a Reply