As you know from my previous post that I was going to buy some backing fabric. That I did plus I bought some extra for the music quilt and some more just because. And then I didn't blog all week because I really wanted to make a serious dent in this stash.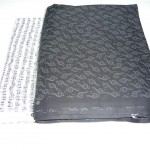 Here's the 8 yards of fabric for the music quilt. The black is enough for borders on the front and the backing. At least I didn't buy it "for the stash".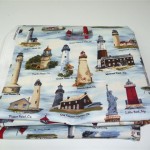 But this fabric is "for the stash". I saw it at Joann's and I just had to buy it. I thought it would make a great border and backing for a man's quilt. I do have 7 brothers and not one of them has a quilt. Yet!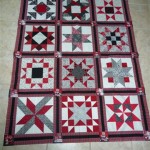 And this is what I have been working on all week. Beside washing all the fabric and pressing all the fabric I bought. I also layered 3 quilts that are now ready to be quilted. I'm not in the mood to do that so maybe this week.
Okay here's my stash report.
Fabric Added This Week: 23 yds
Fabric Added Year To Date: 25.2 yds
Fabric Used This Week: 13.4 yds
Fabric Used Year To Date: 14.38 yds
 Maybe I'll have better luck next week and use up some more.
Happy stitching.
Mary-Kay
2 Responses to "Stash Busting Week #8"
Vicki Says:
February 22nd, 2009 at 8:33 pm

I love your quilts pictured. I saw you are making yo-yo's for dresden plates. I just coincedentially bought a yo-yo maker too and I am hooked on them. Putting a yo-yo in the center is a great idea!!

Lori in SD Says:
February 22nd, 2009 at 9:57 pm

Any time you buy fabric and it has a specific purpose, it's a GOOD buy. And 7 brothers, are you going to make the quilts in order by age, or draw straws!!
Leave a Reply