Yep, that's right, I bought some fabric. I went to the quilt shop for the BOM and came home with 2 meters of fabric. But it's for a quilt, not for the stash. I offered to make a raffle quilt for my son's music program at school, so I bought music related fabric.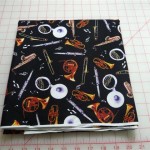 It has brass instruments on it and my son doesn't even like it. Too bad, it's not for him anyway. But if it doesn't work out, my niece wants a wall hanging featuring musical instruments so it won't be just sitting in the  stash.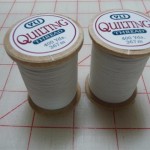 And I bought some hand quilting thread. I can't believe that with all the thread I have I don't have any of this type. But this thread is going to be used to quilt this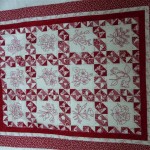 redwork project that has been aging awhile. I think it's time to finish it up. I haven't hand quilted in years so I might wait until my sister comes down at the end of the month to help me get started again. And I should read my book The Perfect Stitch by the late  Roxanne McElroy. It's a great book .  
Well I'm off to do some more Dresden Plates and hopefully get that somewhat finished before the weekend.
Happy stitching.
Mary-Kay
One Response to "Oops I Did It!"
Karen Says:
February 6th, 2009 at 11:48 am

Beautiful redwork and also love your dresden's.
Leave a Reply