As Previously reported, I actually purchased fabric this week. But it is for a specific quilt not just because I liked it.
Fabric added This Week: 2.2 yds
Fabric Added Year To Date :2.2 yds
Fabric Used This Week: 0 yds
Fabric Used Year To Date : 18.15 yds
 All week I've been working on "Mum's The Word" which is a Dresden Plate pattern. Very easy to make. Now all I have to do is decide what to put in the middle of the plate. The pattern calls for x-large yo-yos and I don't know if I like it enough to make 18 of them.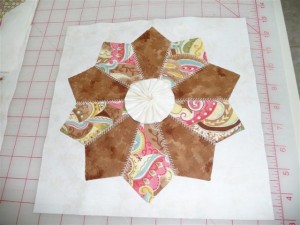 The yo-yo is just sitting on the top. It looks nice  in this colour combination but on some of the others I don't like it as much. Originally I was going to make the yo-yos in  the red or yellow  but I thought that using either of those colours were too bright and would detract from the rest of the block. The pattern suggest using the same fabric as the background fabric.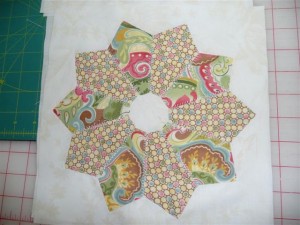 I really like this colour combination. The stitching between the veins of the plate make it look altogether different than without it. I don't know why I didn't take a picture with the yo-yo on the block.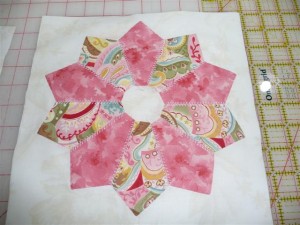 This is another block that I really like. Next time I make one of these quilts I'm not going to use a jelly roll but I'll be picking out my own colours. I like a lot of the fabrics but not all of them. Wouldn't it look cool in all batiks? Or Christmas colours?
That's all for now. I'm off to make yo-yos, I think.
Mary-Kay
One Response to "Stash Report Week #6"
Vicki Says:
February 8th, 2009 at 9:28 pm

I absolutely love this pattern!! I think that it will look great in Christmast fabrics too. I have not tried to make yo-yo's. They sound pretty , um, frustrating to me.
Leave a Reply