Well, I haven't used all that much fabric this week, but at least I haven't bought any. Hurray for me!  On Monday I'mgoing to the quilt shop for my BOM and I have to be strong and not look at the fabric in cause I'm tempted to buy.
Fabric Added This Week: 0 yards
Fabric Added Year To Date: 0 yards
Fabric Used This Week: 4.25 yards
Fabric Used Year To Date: 20.35 yards
 This is what I've been working on.
I have 7 of these plates completed. They are not appliqued down yet but soon will be.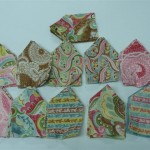 Here are the 11 more to finish. Jelly Rolls are really easy collections of fabric. It's really neat how pattern designers took old patterns and revised them for the use of jelly rolls. Much easier than the other way of constructng a Dresden Plate block.
Well I'm off to do the weekly shopping and I have to go to the University bookstore on the other side of town for my son's school supplies. Mothers' jobs are never ending but I hope greatly appreciated.
Talk to you later.
Mary-Kay
4 Responses to "Stash Report Week #5"
Leave a Reply