I've started making the yo-yos for the centers of the Dresden Plates. I learned an easy method from Wendy at Truly Materialistic.  She said that she drilled holes in the back disc of the yo-yo maker at the size of the finished yo-yo and then she used a fabric marker and put dots on the material once it was in the disc. Then she made the yo-yo and before she pulled the thread tight she sewed it to the center of the block and then pulled the thread tight and voila, a finished yo-yo.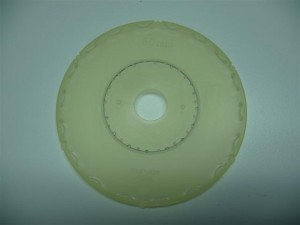 I don't know if you can see but I drilled small holes in a circle on the back disc of the yo-yo maker. Almost in a perfect circle but I'm not that good. I used a very small drill bit, just as big as the end of a marker tip.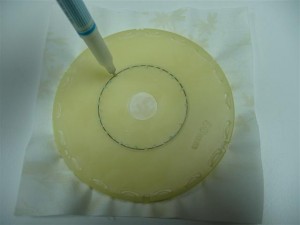 I put the fabric between the discs according to the instructions and then I marked all the holes with a washable marker.  You trim the fabric and do a running stitch around the edge of the yo-yo according to the  instructions.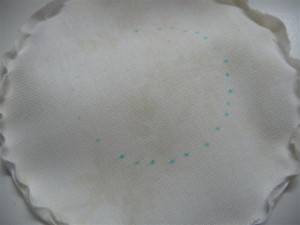 You can just see the marker dots and I just saw them enough to sew on the dots.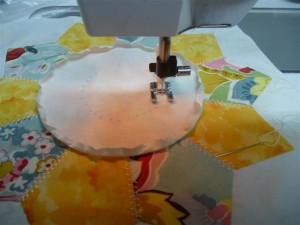 I used the open toe foot so I could see the dots and managed to  sew a fairly round circle.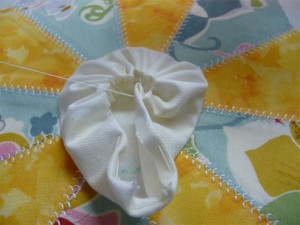 When you are done sewing, you pull the thread tight around the outside edge of the yo-yo while trying not to break the thread and keeping it nice and neat. Knot the thread and bury the knot. I brought the thread to the back of the block and knotted it again, just to be safe.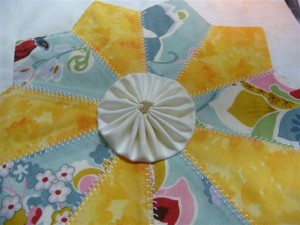 The finished product. This method makes a nice crisp edge and eliminates hand sewing the yo-yo to the block. I think I like the way it looks.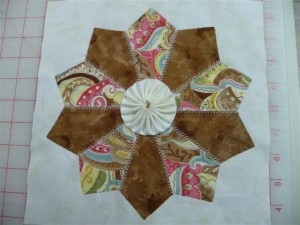 This is the first one that I did with this method. I didn't trim the edge of the fabric small enough and it makes the center stick out a little far. The instructions say to trim it1/8 to 3/16 and I think I did it about 1/4 of an inch.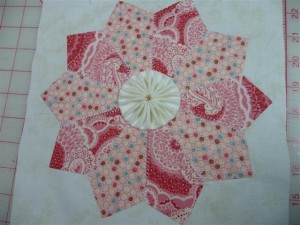 So far this one looks the best to me but then I am very critical of my own work. The pleats or gathering in this one are perfect. I hope all the rest of the blocks turn out like this one.
 Well I'm off to do more.
Talk to you later.
Mary-Kay
One Response to "Yo-yos Made Easy"
Karen L Says:
February 15th, 2009 at 1:40 pm

I love your method of attaching the yo-yo's…..I'm going to try this the next time I have to do them.

Karen L
Leave a Reply