…was a lot of fabric. None was really for the stash except the bolt of black.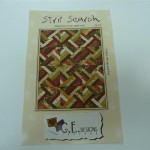 A new pattern, "Strip Search". I saw this and I thought it would make some great comfort quilts from the  2.5″ strips that I have been saving.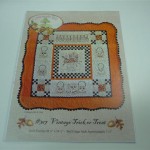 A vintage Halloween stitchery that has a ball fringe. It seems kind of retro rather than vintage but I love all the Crab-apple Hill patterns.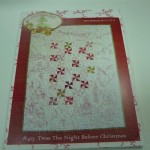 So I had to buy this one too. "Twas The Night Before Christmas" I'm going to have quite a collection of their patterns and when they are all completed, they will be so beautiful. Of course, it might take me a few years. But at least I can look at the pattern and imagine them all finished.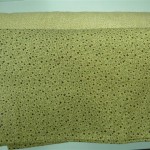 And here's some blah looking flannel for the back of 3 comfort quilts. The reason I say it's blah is the colour of it. I am not a brown person. I like black way better so I bought a bolt of it!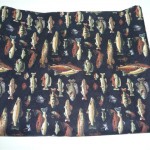 This is a really nice fish print that I'm going to use for a comfort quilt. I have some homespuns that will match up nicely with this and I think the intended recipient is going to love it.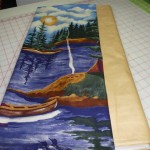 And finally this tan coloured fabric. I am making a comfort quilt for a scout leader who is ill and I thought that I could get all the kids in his scout troup to sign a block and somehow arrange them around this campy panel. The other scout leaders in this group thought it was a great idea. Now all I have to do is cut it into 6.5″ squares and send it off to camp. I guess the kids are going to do it as part of their scout trip. I think the leader is going to love it.
  Well I'm off to cut up fabric and use up some of this newly acquired fabric so it doesn't go in my stash.
Happy quilting.
Mary-Kay
Leave a Reply