Yup, that's right. Wendy from Truly Materialistic commented that she didn't see the finished quilt "Mum's The Word". I have the backing but I have to think about the way I would like to quilt it. It's not a gift or anything like that so time is not an issue. Here it is…..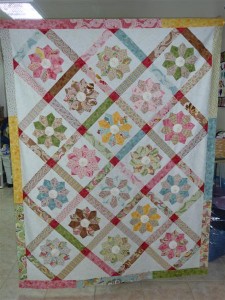 I was thinking of quilting in the half-square setting triangles a feathered wreath ( boy, the spelling of that seems weird) and then outline quilting around the plates and something around the yo-yo in the center of the plate and I don't know what else.  Any suggestions would be appreciated.
 I have a few comfort quilts to quilt and a few more to make. Then I can possibly start on this quilt. Maybe I'll win some moolah and I won't have to work and I can be a stay-at-home quilter. Yeah right!
Have a great week.
Mary-Kay
Leave a Reply