Here are the visual aids as requested by Kare.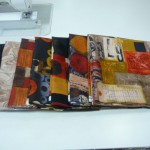 Aren't these the coolest fabrics ever? All of them except for the black one on the left are from Camelot Cottons and are from the Urban Squares line. I've never heard of this company before but they have some of the neatest looking fabric.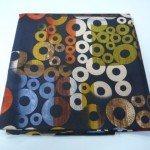 Now you have to like this stuff! Well maybe it's not for everyone but I really liked it so I had to get a few yards of each. But not just for the stash but I'm actually going to make a few quilts from it.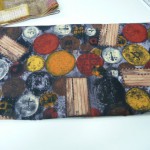 Doesn't it look like a collage? I like the different elements in the design of this fabric. Very cool looking!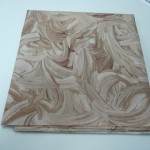 And from the same company this is the Finger Paint line. It comes in a lot of different colours and has more definite colour variation then a tone-on-tone fabric. Apparently it goes fast when it's in the quilt shop. Maybe that's why I've never seen it before.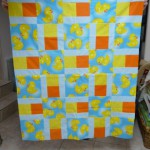 And last but not least. I made 2 of these quilts today for my niece. She has a few friends that had babies and she wanted to make them quilts. Originally it was supposed to be one quilt but the friend had another baby before she got the first quilt started. Then she asked me if I would make thembecause she knows I would get them done. Plus I have another baby quilt to make for another friend of hers. And then this friend is pregnant again so we'll have to make another quilt for her too! Busy, busy!
That's all for now.I'll habe more photos tomorrow and  I have to get a few more things done, then it's time for bed. Five comes really early. The mail must go through. Rain, shine, sleet or snow. Whose idea was that anyway? Must have been a man. LOL!
Mary-Kay
5 Responses to "Visual Aids"
Leave a Reply