December 14th, 2009 - Cookies
Boy, I sure got some good cookies! And they are really tasty. One of my friends even made a dozen cookies for my son who has nut allergies. Too bad the other son has so many allergies that he can't have just one cookie at all. He's only had chocolate twice in his 24 yrs of life. His first birthday before we knew he had allergies and one other time when he got in the fridge and ate some chocolate cake. Boy was he sick after that!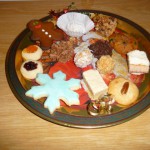 Lori, look at this plate of cookies. Twelve dozen. That snowflake one is delicious. My friend called me up when we were done work and asked if I tasted it. I ate one after I left the depot to go deliver mail. Yummy!!! And I have to put them in the freezer and not outside. It's 40 degrees out and it's only going down to 30 tonight.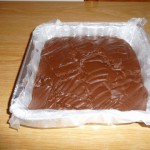 And one of the girls made fudge. Everyone in the cookies exchange received a whole tin of it. It's sooo good but I'm not going to eat any until after Christmas. And I'll know if anyone in this house eats any too. I'm not slicing it up until Christmas Day when we go to Brett's parents house for dinner. I'll bring a whole plate of goodies. Nice and easy.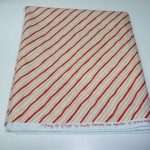 This is one of the fabrics I got  while I was in Charlevoix. It's great for bindings on Christmas stuff. Not that I have any Christmas stuff ready to bind. Yet!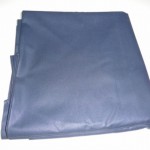 I also picked up this solid blue fabric. It's not navy blue but close to it. I want to use it for sashing on some scrap blocks that  were leftovers from 2 other quilts.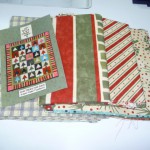 And last but not least, here's the Christmas quilt, backing and all. It really matches my living room unlike the other Christmas quilt. I'll be giving that one to my mom for Christmas. The pattern is "Trees for Sale" by Sandy Gervais. It looks pretty easy to put together. I know that it will not be done this year but I'll finish it after Christmas when I'm on vacation.
 That's all for now.  Happy stitching.
Mary-Kay
2 Responses to "Cookies"
Allie Says:
December 15th, 2009 at 3:40 am

MMMMMMMMMM looking at the cookies and fudge is making me hungry! I love the fabrics [especially the stripey one] and the quilt kit looks wonderful!

Sue H. Says:
December 15th, 2009 at 11:24 pm

Aren't cookie exchanges wonderful? And that Christmas stripe is going to make fabulous binding. That's the kind of fabric you could never find when you have to have it!
Leave a Reply