You are so ugly!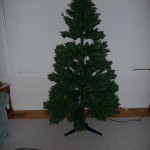 Doesn't my tree look pathetic?  I had to shape the branches and while I was doing that , one of the branches came off. It's only 2 years old and we didn't even put it up last year.  I loved my old tree but it was getting all ratty looking and the wire branches were coming off. Next year I'm looking for a really nice tree right after Halloween.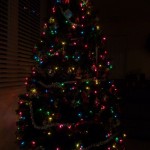 Now my tree looks like this. It's amazing what some lights and decorations can do to an ugly tree. And they always look pretty all lit up in a darkened room.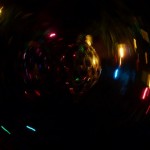 I tried to take a few photos ala Sue Hecker and spent most of my time deleting them. I found out that I got the best results with the round bulbs.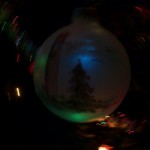 My friend, Peg, painted this bulb. She makes the most beautiful painted things.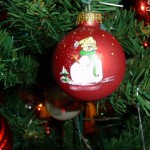 And Peg painted this one too. They are so pretty and delicate looking. I usually hang them fairly high up on the tree just in case some little fingers try to grab them.
I wish you and your families a very  Merry Christmas!
Mary-Kay
One Response to "Oh Christmas Tree, Oh Christmas Tree…"
Vivian Says:
December 27th, 2009 at 1:02 pm

It is amazing what lights and decorations will do. I also have a tree that I told my husband 2 years ago not to let me box up but put in the dumpster. There were so many needles on the floor when I got it out and put it together I knew it would be the last year. But . . . I got it decorated and it is beautiful. Needless to say, two years later, I am not planning to part with it.
Leave a Reply