Well, oncce again I've purchased fabric. All for good causes and none for the stash.
 Backing for this little baby quilt. I've been eyeballing this fabric for awhile now and I didn't want to buy it because I could not think what to make with it. I saw this little quilt made and thought that it would be just right. So I got the top but the shop didn't have enough for a backing but I picked some up here in Windsor. Now I need to get it quilted.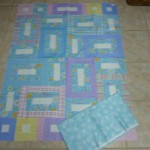 I made this quilt top entirely from my stash but I didn't have any fabric for the backing. I'm a little OCD about matching up the front and back of quilts. Everyone says "it's only the back" but I just can't bring myself to use a fabric that doesn't do it for me. besides, I didn't have enough fabric that was a close enough match so off to the quilt shop I went. At least it's being used, not going in the stash. Another quilt for the to-be-quilted pile.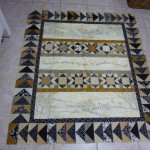 I  finished this beauty on Sunday. I just love this quilt and I would never part with it. Way too much work. My husband wants to take it over to his mother's and show her but then she would want it. I told him no way am I ever giving it away so think again. But it's nice that he wants to show people my work. He's a great supporting of my habit.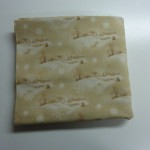 This is the backing for the previous quilt. What a great match! I also bought enough for the backing of "Snow Days", another Crabapple Hill stitchery that I'm just starting. I even bought it for the backing of my sister's Snow Days. It's the perfect backing for these stitcheries, the print looks like the stitching on the front.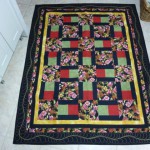 I finished the quilting on this comfort quilt. I love feathers and would like to stitch them on everything but I know I can't do that. I finally took my machine in to see why it keeps on acting up. In the shop the machine wouldn't mess up at all and then I said I'd bring in what I was quilting on and see if it would do it then. No dice, it stitched perfect. Oh well, just like when you take your car in, it never messes up in front of the mechanic. I brought it home and it's been stitching perfect ever since.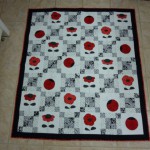 I also finished up this quilt.  I think it turned out great. I echoed around the flowers and ladybugs and was stumped as to what to quilt in the pieced squares. Joy at Joy Quilts suggested spirals in them and it worked out great. It was the right amount of quilting to compliment the echo stitching. Thank you Joy.
 Now for some numbers.
Fabric used this week: 15.46 yds
Fabric used YTD: 77.81 yds
Fabric added this week: 15.5 yds
Fabric added YTD: 91.88 yds
Net fabric busted: -14.07 yds
 Oh well, at least eveything is accounted for and my numbers pretty well remain the same. I think one of the pieces I bought was more than needed but I don't think I was charged for it so that's a good thing. It was the end of a bolt and the store just gave it to me. Nice! Have a great week and sew lots. I hope to!
3 Responses to "The Stash"
Amy C Says:
May 1st, 2011 at 4:30 pm

So many cute projects. I like your feathers. Very pretty!

Allie Says:
May 1st, 2011 at 8:21 pm

Holy cow – you have been busy! No wonder you've been so quiet. I can't pick a favorite here hon, I love them all! Have to laugh about your machine not messing up – maybe the trip to the doctor scared it into submission!

Cathy Says:
May 1st, 2011 at 11:33 pm

I'm with you. I wouldn't be able to give the one with the flying geese border away either. It is bee-you-tee-full. The others are good as well, but that one tops them all.
Leave a Reply