Just thought I'd let you know that I'm still alive. I really haven't felt like posting anything but I'd like to show you this beautiful picture of my son and his 3 friends on prom night a couple of weeks ago.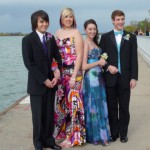 This isn't the best picture but it's the only one where my son's date doesn't get her head cut off. My son's on the left and the other 3 are his best friends all through high school. Next year they are all off to different universities around the province.
Have a great evening.
One Response to "Prom Night"
Allie Says:
May 21st, 2011 at 9:47 pm

Oh MY don't they look spiffy – love the dresses – your son is so handsome, and they all look beautiful!
Leave a Reply