Yup, that's me. Falling behind with all these block of the month kits. Never again! Oh you've heard that before.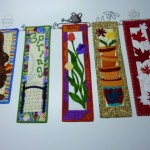 I made these 5 already this week. This is a series of wallhangings from Patchabilities. Once again, I like the pictures on the patterns but not all the fabric in the kits put together from the lqs. I know that's the way it is with these things but I must say they look great in the photo. Two more to go and I'm caught up on this BOM.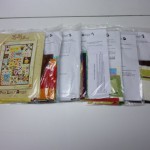 When I'm done the wall hangings, I can start on this BOM. It's all applique and I need to figure out which method I'm going to do, hand or machine? Hmmmm….. big decision. I love the look of hand applique but I love the speed of machine applique. Maybe I'll wait another month, it's been 7 already. What made me get this BOM was the quilting on the sample in the lqs. It is stunning! The cost of the quilting will be another story.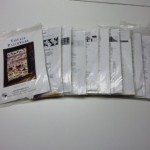 Or maybe I can work on a few of these. I started them a couple of weeks ago. I've only had this BOM for 8 years so once again what's another few days, weeks or months or years. This quilt is just beautiful. it's made to be a wall hanging and I really don't have the wall for it. Maybe this is why I haven't worked on it.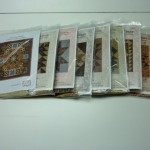 And then when I get that all done, I can work on this BOM. This is the giant Civil War quilt. Some of the monthly kits have 4 blocks in them or more. Yikes! Who has that kind of time? And besides I don't even like this kind of stuff. What ever got in to me?  I think I need to get my head examined! Oh well, someone is going to get a really old looking quilt, not because it's supposed to be old but  because it will take me that long to do it. This is not the colours I like so it will be a challenge to get it done.
More later.
Mary-Kay
2 Responses to "Falling Behind"
Melinda Says:
August 26th, 2010 at 10:00 am

I makes me feel good to know someone else has unstarted and/or unfinished BOM's. I managed to resist the Civil War because I really don't like the fabric but I do like the design and have been thinking of borrowing the patterns from a friend and making the quilt in batiks. Good luck with yours.

Allie Says:
August 26th, 2010 at 11:39 am

Dang….that's a LOT of bom's! I love the top one, those are really darling. I only have one that I never started – the Little Monsters, I think it was called. I got four or five of them, and dh lost his job and I had to quit. Someday it will be vintage and someone will be looking for them, lol. Or maybe I'll find the rest on ebay!
Leave a Reply