October 21st, 2018 - The Stash
OMG! I bought more fabric! Am I nuts? But it was so much fun that I didn't even realize that I actually bought some fabric. I  even went to a quilt show and didn't buy any fabric. I went to a quilt shop to exchange a item that didn't work and bought a ironing board cover but no fabric.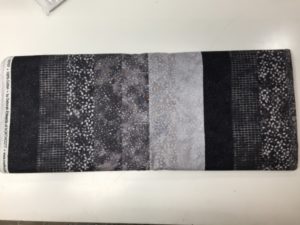 Then as I was walking out, there was a bolt of sale fabric with my name on it, so I bought some. Some being 5 plus yards! As soon as I figure out what fabric to use as setting triangles, it will be cut up into a few comfort quilts.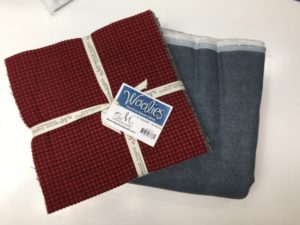 Then at another quilt shop,  I browsed too long and bought more fabric. Nice soft cozy flannel from Maywood Studios. I love their flannels! I bought the layer cake and backing fabric. Again, another comfort quilt. Just need to find the right pattern and it will be used up.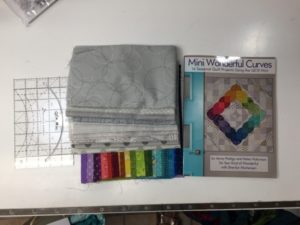 When I was at the quilt show, I bought the book "Mini Wonderful Curves" and the ruler. While shopping I found the kit for the cover quilt, Color Love. I am planning on making this quilt at an upcoming retreat.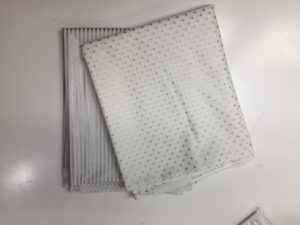 And then I found this very cool fabric. One has silver stripes and the other has dots. It might be Christmas fabric or it might not be Christmas fabric. I have the perfect pattern for it. Wait and see!
And here's a quilt I made using my stash. Except for the backing. It's all quilted up using Pretty Paisley pantograph from Willow Leaf Studios. I love how it looks and I'm sure my sister-in-law will love it too.
Now for those magic numbers.
Fabric used this week: 13.7 yds
Fabric used YTD: 153 yds
fabric added this week: 21.08 yds
Fabric added YTD: 218.33 yds
Net fabric busted: -65.33 yds
So much for trying to get the net fabric busted to be 200 yards to the good. Next year, I hope!
As for the 15 Minutes to Stitch, I'm not quilting as much as I would like. I managed to sew 15 hours per week for the last 3 weeks. Not bad but I'd really like to sew more. I have tons of fabric to use!
I'm linking up with Donna at quiltpaintcreate for the stash report and with Kate at Life In Pieces for the 15 Minutes to Sew.
Have a great week!
3 Responses to "The Stash"
Sunday Stash October 21, 2018 | quiltpaintcreate Says:
October 22nd, 2018 at 6:20 am

[…] I finally have something to report. I finished the shirt for 1 yard out. I still need to either tack down or top stitch the facing. I'm leaning toward top stitch because I hate facings that roll out. It fits me better than anything else I own. Go figure. I'll post a pattern review and a picture of me wearing it later. I'm excited to start working on something else today. That shirt was a big creative road block for me. It was a bit silly as the sewing wasn't hard or complicated. Fabric In: 13 yards Fabric Out: 16 yards Net Fabric Used: 3 yards Quilt & embroidery spending: $141 How did you do this week? 1 Kate 2 Meloney 3 Chrisknits 4 Julie in GA 5 Quilting Gail 6 Mary-Kay […]

Donna Says:
October 22nd, 2018 at 6:23 am

If you liked the book enough to buy it and the ruler, it makes sense to buy the kit. Everything else you added is a neutral and will get used quickly.
I doubt any of us have enough neutrals to use up the stash.

Kate Says:
October 22nd, 2018 at 7:25 am

At least you have plans for most of what you came home with. You've done a great job of using stash, so maybe you should consider this year as one of "refreshing" the stash with new additions. Finding time to stitch can be hard, hope it gets easier for you on that front.
Leave a Reply