And that would be, nothing much over here. I can not seem to get in to the sewing/quilting groove. Weeding and cleaning the garage seem to be the only things that are getting done. Even with access to my friend's long arm machine, I am not feeling very quilt-like lately.  I have made a few wallets but that's about it.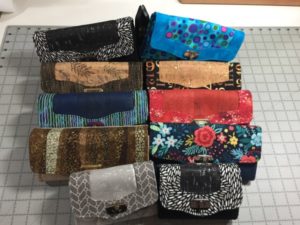 Instead of going to bed, I was goofing around, trying to snap a picture of a few of the wallets I have made.  I really enjoy picking out fabric combinations for these wallets. I've even tried vinyl for the first time in the grey Mini NCW.  I have a few of these wallets posted in my Etsy shop, TheQuiltingJunkie if anyone is interested. My next venture is to try to make a few bags like the Double Flip Shoulder Bag from Emmaline Bags.
On the fabric stash department, not much going on. But I really want to go to a fabric shop!  And then again, I do not wan to go to a fabric shop. I have enough fabric to last a year or two or three or… You get my drift.  I did use a little bit of fabric making wallets but not much. Here are my numbers.
Fabric used this week: 3.8 yds
Fabric used YTD: 127.88 yds
Fabric added this week: 0 yds
Fabric added YTD: 139.31 yds
Net fabric busted: -11.63 yds
I would like the "Net fabric busted" to be 200 yards.  So I am going to be busy sewing up a storm the next couple of weeks. I have a baby quilt due by September 8th and someone just messaged me about a custom quilt order.
As for the 15 minutes to Stitch situation, not much sewing is going on here.  For the past 4 weeks, I've sewed 41.6 hours in total. That averages out to 10.4 hours per week. This week I hope to spend a bit more time in my sewing room.
I'm linking up with Kate at Life In Pieces for the 15 minutes to Stitch and with Donna at quiltpaintcreate for the stash report.
8 Responses to "What's Going On"
Leave a Reply