I'm slowly getting out of the negatives. No fabric purchased but hardly any used. It's a step in the right direction. I did sew but it was at my friend's house on her long arm machine. I ended up getting 3 quilts quilted.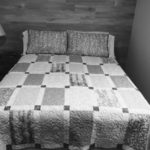 I finished this beauty. I just love the simplicity of it. The binding is all by machine which is my new binding method. If it was a show quilt, then I would do the binding the traditional way. I drew this quilt out on EQ7. I usually draw it out on a piece of paper but I really need to learn the software.
A funny story about the room colours. I stayed at a B&B in London On about 4 years ago and there was this room done up in greys and white. Very calm and elegant. No visitors  were in the room so I snapped a few pictures of it. Then  later in the year, I was in Barrie ON, shopping with my sister-in-law, and I saw a comforter in a home store very similar to the quilt I just made. I totally forgot about these pictures until Thursday when  I was looking for some pictures and I came across these pictures.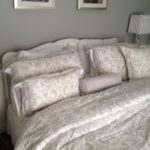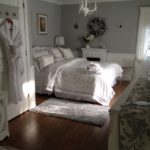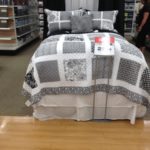 I think I must have had this colour scheme in my head for all these years and didn't even know it. All I need now for my room is a new lamp and mirror in these kind of colours. I love the way it looks and so does my husband which is a score for me!
Now for some numbers.
Fabric used this week: .64 yds
Fabric used YTD: 123.88 yds
Fabric added this week: 0 yds (even though I was tempted by new Christmas fabric at the LQS)
Fabric added YTD: 139.31 yds
Net fabric busted: -15.43 yds
As for the 15 Minutes to Sew. I managed to sew every day but Wednesday for a total of 22 hours. I feel like I didn't sew at all but I quilted instead.
I'm linking up with Kate at Life In Pieces for the 15 Minutes to Sew and with Donna at quiltpaintcreate for the stash report.
Have a great day!
6 Responses to "Slowly but Surely"
Leave a Reply