October 28th, 2018 - The Stash
I only managed to get one thing completed this week from my latest purchases. I made a flannel quilt top from the layer cake.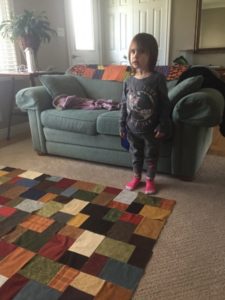 This little missy helped me with the layout. She was really good at smoothing out the blocks. I was pleasantly surprised. Maybe she will turn out to be a quilter like her grandma.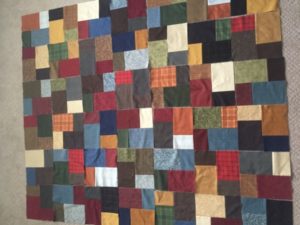 This was our final layout. I found the pattern from  Missouri Star. Nice and simple and most of all, quick. I love all these flannels from Maywood Studios. All 42 pieces were different, no colour repeats. It makes for an easy layout.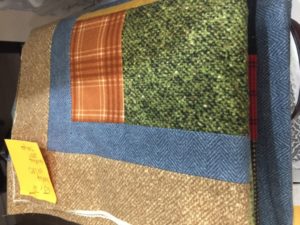 This is the corner of the completed top. The blue border is the same as the backing fabric and the outer border was some flannel I had left from another quilt. All Maywood studios, which was kind of cool. I love their flannels!
Now for some numbers.
Fabric used this week: 8.48 yds.
Fabric used YTD: 161.48 yds
Fabric added this week: 0 yds
Fabric added YTD: 218.33 yds
Net fabric busted: -56.85 yds
I might get my 'Net Fabric Busted' to be zero by the year's end. Hey, you never know. That's at least 5 complete lap sized quilts. I better get busy with that. And stay out of the fabric shops too!
On the 15 Minutes to Stitch front, I managed to sew for 17 hours this week. I actually sewed every day this week except for last Sunday. I cleaned my sewing room but you would never know. There's still lots of stuff in it. I also started scaling down on my other crafts. I have tons of rubber stamp supplies I'd like to get rid of but my grandkids love to play with all that stuff. I did get rid of 2 bags of yarn and a bag of fabric scraps. My niece uses all that kind of stuff at the day care she works at.
I'm linking up with Donna at quiltpaintcreate for the Stash Report and with Kate at Life at Life in Pieces for the 15 Minutes to Stitch challenge.
Well until next week. Maybe I will be at zero!!!!
4 Responses to "The Stash"
Leave a Reply