That's right. There's no stash busting going on here. It seems that there is a lot of stash enhancing going on. Since my last post, I have accumulated 57 plus yards of fabric. Most of it was on sale! Woo hoo! But now I need to sew like a crazy person to meet my goal of busting 200 yards of fabric. I will start on that next week.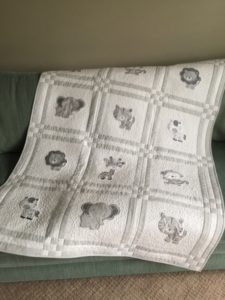 This is the second time I have made this quilt. It was a great machine embroidered applique design I bought off Etsy. Very well designed and digitized.   Next time, I'm making it in colour.
Here are my numbers.
Fabric used this week: 8.04 yds
Fabric used YTD: 135.92 yds
Fabric added this week: 57.94 yds
Fabric added YTD: 197.25 yds
Net fabric busted: -69.37 yds
There are 16 Sundays left this year and I need to use 269.37 yards of fabric. That amounts to 16.83 yards of fabric used each week. Now what can I make in a week, 16 times to reach my total? On my mark, get set, go!
Now on the 15 Minutes to Sew front, I think I've got that covered. Too bad I didn't use much of my fabric this week. I had to go to a family baby shower and my mother-in-law wanted me to make a few things. She bought the fabric and we sewed for 38.5 hours, making up little baby things.
We made 5 self-binding receiving blankets, 3 bibs, 3 burp cloths and 4 nighties (2 newborn and 2 – 6month sized) I also embroidered 4 onsies.  I think I spent more time figuring out how to hoop and embroider the onsies than making all that other stuff.  And let me say that not all the designs you can buy off Etsy are created equal. But I enjoyed making the stuff just not the clothing part. Give me quilts and blankets or just let me embroider the clothes but don't ask me to make those tiny little clothes. Much too fiddly for me.
No pictures of the embroidered onsies. I forgot and it was so last minute that I had to stuff them in the basket. Plus I had to hand sew on the label on the quilt I made. Can't forget that.
Anyway since I last posted, I have managed to sew for 12 hours week one , 20 hours week two  (and I babysit the munchkins for 4 days) and last week, 38.5 hours. I think I even managed to get 15 minutes in every day. Yes, life is good!
I am linking up with Donna at quiltpaintcreate for the stash report and with Kate at LifeinPieces for 15 Minutes to Sew.
Have a great week!
3 Responses to "No Stash Busting Here"
Donna Says:
September 9th, 2018 at 9:31 pm

Bibs take as much time as piecing a quilt. Great gifts for the mom to be though. I'm sure she'll get plenty of use out of it all.

Sunday Stash September 9, 2018 | quiltpaintcreate Says:
September 9th, 2018 at 9:31 pm

[…] No fabric in or money spent this week. I finished Tiger Pear for a small bust. The work situation still keeps me out of the sewing room during the week. With luck that will resolve itself by the end of next month. Fabric In: 13 yards Fabric Out: 15 yards Net Fabric Used: 2 yards Quilt & embroidery spending: $141 How did you do this week? 1 Julie in GA 2 Pack Rat With a Plan 3 Kate 4 maggie f 5 Meloney 6 Chrisknits 7 Aileen 8 Angie in SoCal 9 Patricia 10 Mary-Kay […]

Kate Says:
September 10th, 2018 at 8:10 pm

Wow, that's a lot of stitching time. I with you on the clothing stitching, I'd much rather work on a quilt!
Leave a Reply