Oops, I forgot we were stash busting not stash enhancing. Oh well, I bought some fabric that I have admired for weeks. There's still another line of Kaufman fabrics that I really, really want but I can't think of something to make with it so on the shelf it stays. But I couldn't resist these fabrics.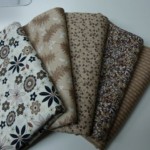 I like the look of this fabric selection.  This is not my usual colours but I just love the fabric on the left and seeing as I didn't have anything to go with it, I had to buy some coordinating fabrics. All from different manufacturers but all similar in colour. I haven't decided what to make with it yet but I'm keeping my eyes open  for something appropriate.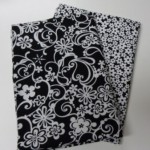 I also bought these 2 black and whites for a daisy pattern in a book I have. I'm not sure it they will work and if they don't I can always make another black and white quilt. Or I can just add them to my stash of black and white fabrics.
 So here's my ever growing stash report.
Fabric added this week: 19.5 yds……..that's it for a long while
Fabric added YTD: 78.85 yds
Fabric used this week: .75 yds
Fabric used YTD: 101.53 yds
Net fabric busted: 22.68 yds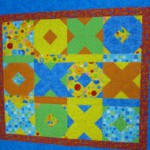 I had 2 finishes this week. The original X's and O's quilt. Actually the smallest size on the pattern calls for 12 fat quarters but for a baby quilt Ithought it was too big and I halved it. All I need to do is finish hand sewing the binding on and the label.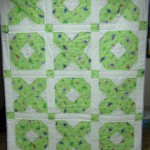 This is another finish for the week. This is my 2 tone version of the X's and O's quilt and appeals to me more than the original colour combination. I think it looks more like a baby quilt than the one above.
That's it for this week. Have a great day and enjoy the weather.
Mary-Kay
4 Responses to "Stash Report Week #20"
Leave a Reply