This is really a non-report because nothing quilting happened this week except I added some fabic. I was a busy bee this week, getting my son organized for his trip to New York , taking my mom to the doctor, an appointment at the bank and haircuts. Busy, busy!
Fabric added this week: 1.75 yds
Fabric added YTD: 56.95 yds
Fabric used this week: 0 yds
 Fabric used YTD: 100.29 yds
Net fabric busted: 43.34 yds
 I went to a sewing show yesterday  and  I got this pattern from Bigfork Bay Cotton Company and they have some really neat patterns. There was this other one that caught my eye but when I saw the tulips I switched them. I can always get the other one once I complete this one. I picked up 7 fat quarters for this and hopefully I have enough other colours in my stash to complete this.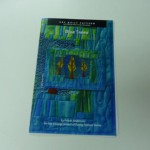 I also picked up this pattern by Frieda Anderson and boy, does she have some really cool patterns! I had a hard time choosing which one I liked  best. All the  patterns had a bonus pattern with them except this one. Oh well, what can I say? I thought this one fit in with my stuff the best.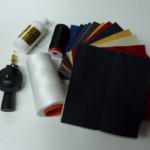 I also picked up this gadget, threads and wool pieces.The black thread is a 12 weight for some blackwork and the white is for machine piecing. That tool is for making cording. I've always wanted one to make the colour cording that I want but I never got around to buying one. And Roxanne's glue baste is a wonderful tool. I use it instead of pins when appliqueing or sewing labels on the back of a quilt. Great stuff!
So now I should start sewing up a storm. I say that every week but this last week has been a no-go in the sewing department. Hopefully this week I can get something done. No appointments yet but you never know who's going to call. Have a great week!
Mary-Kay
4 Responses to "Stash Stuff Week #18"
Leave a Reply