First off, Happy Mother's Day to all the mothers out there. I hope everyone has a wonderful day.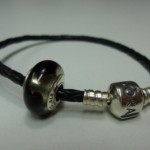 My hubby actually bought me some flowers and took my youngest son out to the store and got me another Pandora bracelet. It's the black leather one with a Murano glass charm on it.  There's little hearts on the charm which I didn't notice at first. I thought they were  flowers. I love it!
   Now on to the stash report. I purchased a couple yards of batiks for a pattern that I got last week. I never seem to have the right colour batik in my stash, I'm still looking  for some grass green for the leaves of the tulips. I know I have some batiks in another spot but I can't remember where I put them but I'll look again before I go out to get some.  Yesterday, my friends and I went to a quilt show in Chatham ON and I bought a couple of patterns which I'm not going to show because they might be birthday or Christmas presents this year. That's if I ever get them started.
Fabric added this week: 2.4 yds
Fabric added YTD: 59.35 yds
Fabric used this week: .49 yds
Fabric used YTD: 100.78 yds
Net fabric busted: 41.43 yds
 I need to put together a few hand projects for next week. I have to take my mom for her treatments and I need something to do. Other than reading a book because that makes me fall asleep. On Friday I took her for a  simulation/mark-up at the hospital, was reading a book and fell asleep. I could sense people staring at me as they walked past, they probably thought I was the sick one. I'm sick all right but not that way. Anyway, this will get me going on some projects that are for gifts and maybe, just maybe I'll get them done in time.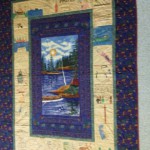 I finished the scout comfort quilt and it looks great. I planned this quilt last year. My sister is a scout leader and one of the other leaders is unable to attend camps due to health problems. I thought that the kids could sign the blocks as an activity  if it rained. I ironed wax paper on the back a little smaller than the block and wanted the kids to keep in in that wax paper area. Some of their drawings overlap in to the seam allowance but I tihnk it turned out okay.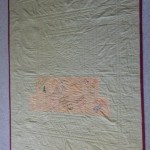 The back looks pretty good even though in this photo it looks puckered but it's just a little wrinkled. I have a few areas with tension problems but not bad enough that I wanted to rip it out. The only people who would notice it are quilters and it's only noticable if you start examing every stitch.  The whole time I was quilting it, I wished I had that Bernina with the stich regulator or a long-arm machine with one. Hopefully that will happen by the new year. The blocks on the back are from other group leaders and I couldn't get them to work in the front. I should have put them a little lower but it still looks okay.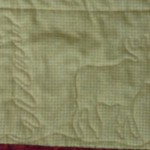 I quilted moose and trees around the edge of the quilt. It's hard to see on the front because I used monofilament. I should have used a tan or something but I find  the monofilament hides all my mistakes on the front. You know, when you stitch too long in one place while you're repositioning your hands. A stitch regulator would have solved these problems. I sound like a broken record but I think I would get the results I'm looking for with it. 
 I have a line on a long-arm machine. A lady in the area wants to retire from the business in the new year and I'm the second person to call her about her machine. If the first lady doesn't come through I get to buy it. It's a Gammill and about 8.5 years old. I should go check it out before I totally commit myself to buying it. All I can say is that it better have a stitch regulator or I'm not buying it. 
Have a wonderful day. 
 Mary-Kay
One Response to "Stash Report Week #19"
Allie Says:
May 9th, 2010 at 3:08 pm

Oh Mary-Kay that quilt is so beautiful!!!! The stitching looks fine to me but I'm with you, I want my stitches regulated. I hope you get the Gammill and that it has a regulator! If it doesn't, I'm sure you can get one for it, just check ahead of time.
Leave a Reply