I've actually been sewing this past week but haven't used all that much fabric. I joined a "12 Days of Christmas" exchange with some artsy crafters. I needed to make something flat and fairly small that could go through the mail. So I decided to make some Inchie quilts. I got the instructions from Nadine Ruggles book "Inchie Quilts" and they are 1 inch size. You don't use much fabric even when you make 12 of them.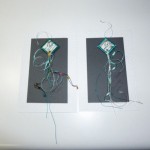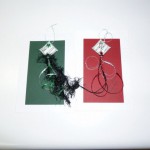 Here are a few of the ones I made. I used the same fabric but different thread for the satin stitching around each one. I added rivets, beads and some fancy threads to hang down. I guess they could be used as an ornament or a bookmark. I mounted them on cards for ease of mailing. I think they look pretty cool but that's because I made them.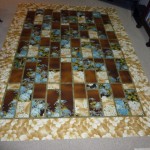 I also finished up "Asian Grace", a pattern from Joy Hansen at Joy Quilts, a local quilt shop. I'm not really keen on oriental fabrics but I liked the way this looked. Almost all of the body of this quilt is cut from one fabric. I liked it so much that I bought it in another colour too and no, I haven't made it yet. Soon.
 Now for some numbers. Apparently last week, I made a mistake in my calculations. I've corrected it on the previous post, so this week's  numbers are correct, I hope. Where's my dad when you need him?  He would have spotted that error immediatley. Oh well, it was an error in my favour so now all is good.
Fabric used this week: 3.4 yds
Fabric used YTD: 180.651 yds
Fabric added this week: 0 yds
Fabric added YTD: 181.985 yds
Net fabric busted: -1.334 yds
 So, I only have 1.334 yards to use to get out of the negatives and then it's all positvely going to be good. Right? I certainly hope so. I'd like to be able to use up a bit of fabric in the coming weeks and I have no plans to buy any either. That's my story and I'm sticking to it! Have a great week and keep on sewing.
Mary-Kay
5 Responses to "The Stash Week #48"
Leave a Reply