doing a little sewing. But I still haven't done any quilting on my new machine. I have a few projects that are half finished that are in the way. But the table is now done!!!!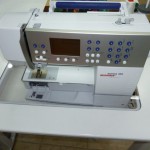 Isn't this fantastic? I just love it. My neighbour built the new box where the machine sits in. And my husband's friend cut the Lexan insert that goes around the machine. I also got him to cut another piece of Lexan that fits in the hole so when I get the embroidery module for this machine, I can just sit the machine right on top. I think both guys did a wonderful job. Thanks guys!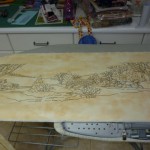 I finished this panel, finally! It's the busiest panel of "Over The River and Through The Woods" and it only took me 5 months to complete it. I have 2 more to go and I even started the 2nd panel the other day.  I can make the blocks that go with it when I'm tired of stitching and maybe have it done for next Christams. Yeah!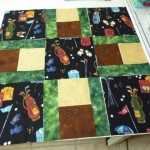 And finally, I have been working on a few comfort quilt tops while I was waiting for my sewing table to be completed. This is a golf themed quilt for my neighbour who, you guessed it,  loves golf. I have been auditioning fabric for the borders and nothing seems to go with it but I'm not giving up yet.  I don't think I have a red that goes with the red of the golf bags which is the colour that sticks in my mind.   I could always use some black as a 1st border and then use some of the colours that I've already used as additional borders. It might be my best bet.
Now to carry on ironing clothes, my least favourite job in the world.
Mary-Kay
One Response to "I've Been Busy"
Allie Says:
November 12th, 2010 at 9:12 pm

Wow your table looks fantastic! It must be a dream to sew on. Your stitching looks amazing too, my gosh that thing is just huge. That's a LOT of stitches. The golf quilt is nice too…red would look great.
Leave a Reply