I started my challenge quilt. And you'll all be impressed to know that it's all from my stash.  And it's been there for a while, years in fact. I don't know why I never started it. I really like the batiks so maybe that's why. Who knows?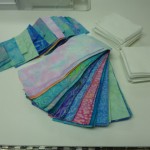 This is all the fabric cut up and ready to be sewn together. I'm going to make this a twin size.  One of my friends left me a comment that I should make it a queen but I don't have enough of the backing or any like batiks. So twin it will stay.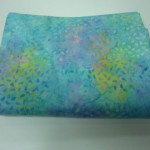 This is going to be the backing fabric. I just love this stuff. I wish I had more of it.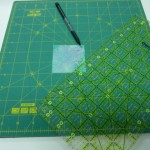 I started marking the sewing line on the corner squares. I have 240 squares to mark but I'm not doing them all at the same time. Maybe 40 at a time.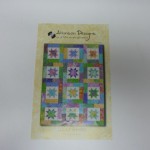 And this is going to be the finished product. I can't wait to get a few squares done to see how it all looks together.
  But first, I must finish a few baby quilts that I've been commisioned to make. 
Mary-Kay
One Response to "Too Good To Cut Challenge"
Kathy Wagner Says:
March 1st, 2010 at 11:38 am

LOVE the fabrics! I made a buzz saw last year with these colours as the background and backing. You can see it here:
http://kathysquilts.blogspot.com/2009/09/another-finish-what-is-going-on-am-i.html
Leave a Reply