Well, you all know that I went to the sewing show yesterday but I didn't buy any fabric there. No, I had my sister bring me the fabric I needed to finish something I started last week. I only needed 3.25″ .She said that there was maybe 4 yards left on the bolt so I said I would take it all. All ended up being 8.5 yards.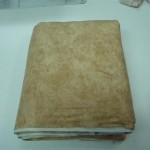 But it's a great colour for all those fall quilts I'm going to be making….next year! Not my usual colour of fabric but I think it will be  a great addition to my stash.
Fabric added this week: 8.5 yds
Fabric added YTD: 224.69 yds
Fabric used this week: 3.25 inches or 0.09 yds
Fabric used YTD: 161.29 yds
Net fabric busted: -63.4 yds
At least the sewing room is all tidy and I don't have to leave the recent addition on the counter. I'll just place it in the appropriate spot.
Happy quilting.
Mary-Kay
 P.S. I forgot a few things that I got at the show. A new ironing board cover, mine looks like crap and a large roll of Golden Threads paper.
3 Responses to "Stash Report Week #39"
Mary Says:
September 27th, 2009 at 6:11 pm

Oh my goodness – you keep track of your net fabric used/added. I need to try that, but I'm afraid of what the net would be, especially this year. I've been on a buying binge all year long. Maybe I'll start tracking in January – it's a resolution that I could keep and that might also deter me from buying just because a fabric is so pretty and I might never see it again (my usual rationale). Sounds like you all had a nice time at the expo even though it was smaller than anticipated.

Allie Says:
September 27th, 2009 at 6:50 pm

Goodness, that looks almost like the fabric I'm using on my hubby's quilt. Cant' wait to see what you're using it in!

Dianne B. in England Says:
September 28th, 2009 at 3:04 am

I love that fabric! I have something similar, and it's very versatile. Looks good with most everything. Well done with your stash report! 🙂
Leave a Reply