September 26th, 2009 - My Stash
Judy wants to see some pictures of other quilters stashes. So here goes.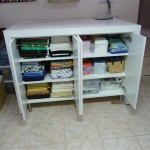 I condensed a lot of piles that were on the counter and reorganized my shelves. I managed to fit all the fqs under the cutting table and the whites, browns and blacks plus some fabric that is from specific lines that I want to keep together.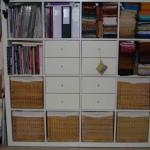 I also have this Expedit shelf from Ikea with the Bana baskets that are chock full of fabric. Every shelf but the three that have books on them is full. I can't squeeze another piece in there. When I bought the cutting table I reorganized the baskest and drawers by colour. I can't believe how much fabric of one colour that I have-one basket is just pink. On top there are 4 small baskets of scraps. I have to do another scrappy quilt or 2 or 3 or 4…..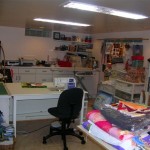 This is looking into my sewing room. I think it looks really messy but I've cleaned it up and hopefully it stays that way. I have lots of stuff hanging  and piled up on the counter. It's hard to be creative when you don't have enough space to lay things out.
What's your stash look like?
Mary-Kay
11 Responses to "My Stash"
Leave a Reply