From the sewing show that is. I didn't buy all that much, just some Texture Magic, thread and a crystal applicator with some hot-fix crystals. But my sister met up with me and brought me some fabric I needed to finish up a quilt I had started during the week. She drove down from Charlevoix, MI with her hubby and they are going back right after so they can play cards with their friends tonight. My BIL  must love driving and he also has a brand new Nitro to make  the driving more enjoyable.
And I met up with a few other people.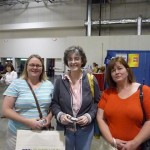 Pam on the right from Mama Spark's World and Allie in the middle from Allie Oops Sweet Happy Life. I had lots of fun and I enjoyed meeting them. I see on Allie's blog that her hubby thinks we are all stalkers. Ha,ha!  Sometimes I think that but never about quilting.
Have a great evening.
Mary-Kay
2 Responses to "And I'm Back"
Allie Says:
September 26th, 2009 at 9:37 pm

It was great meeting you Mary-Kay – and your sister! I can't believe that's all you bought, lol. Have fun with the Texture Magic – let me know how you like it!

Mama Spark Says:
September 27th, 2009 at 11:32 am

It was nice to meet you and Allie IRL, LOL!! You should come our way more often. You need to meet my other friend Pauline sometime too.
Leave a Reply