The quilt top for the little boy is done. I didn't think I could get it done this fast.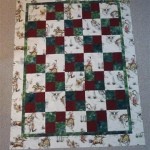 I used a cowboy/rodeo print and some red and green 4-patches. My son thought it looked to much like a Christmas quilt.  I guess it sort of does in this picture  but in real life it doesn't. Oh well, I'm sure the little guy will like it no matter what it is. I had everything cut out so putting it together went quick.
I thought I had some pre-washed backings but none matched to my liking. So while the backing is in the wash I'll make the binding and cut some batting. Have a great night!
Mary-Kay
One Response to "The Top Is Done"
Allie Says:
September 28th, 2009 at 10:36 pm

That cowboy fabric is wonderful! Mary-Kay, you must tell me – what is your trick for getting your blocks to line up? I think I've tried them all but maybe you have one I haven't.
Leave a Reply