Once again I over-quilted a quilt. But it looks great!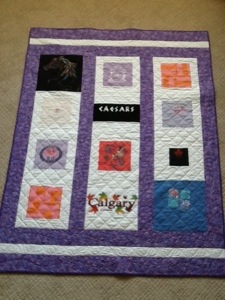 I should have stippled on the t-shirt parts but I didn't think of it at the time. And All I could think of quilting in the sashing part was feathers. I think I did a pretty good job of it. Now to deliver it and start quilting the next one. One down and 24 more to go. And best of all, only 5 more days of work! Yippee!!! I can't wait!
One Response to "A Little Free-Motion Quilting"
allie Says:
December 9th, 2013 at 8:42 pm

Looks wonderful – and only five more days! !!!!
Leave a Reply